Picture of Lies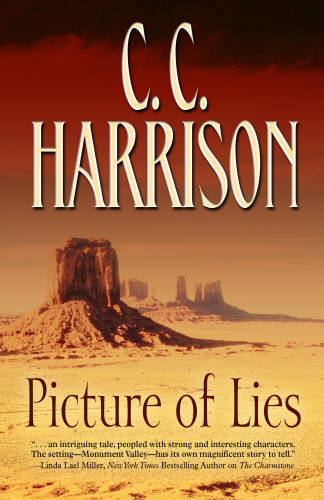 Investigative journalist Keegan Thomas is living a nightmare of guilt and grief since her little girl, Daisy, was kidnapped practically in front of her eyes. When the police investigation stalled, she turned her grief to anger and buried herself in her work searching for missing children, her own included. The result was an award winning series of articles on unsolved child abductions. Then came the inevitable burn-out.
On what is supposed to be a working vacation, Keegan travels to Monument Valley on the Navajo Indian Reservation seeking the whereabouts of people in an old photograph found in her grandfather's belongings after his death. Her assignment? Write an upbeat human interest where are they now story for OffBeat Arizona Magazine.
But the Indians do not welcome this nosy stranger carrying a picture of their old people, some of them dead. While navigating the mysterious ways of the Navajo, Keegan is told one of the children in the photograph was kidnapped by missionaries and taken to a boarding school.
BUT THAT WAS JUST THE FIRST LIE.
What follows is a web of deception that stretches back two generations, and the truth Keegan learns about her own family is the most shocking betrayal of all. Nothing can prepare her for the danger she encounters when she becomes the target of a powerful U.S. Senator who will do anything to stop her from telling what she knows about the PICTURE OF LIES.
Next Generation Indie Book Suspense Winner!
International Book Award Top 3 Mystery/Suspense Finalist!
New Mexico-Arizona Book Awards Mystery/Suspense Finalist!
PICTURE OF LIES – Sometimes a picture is worth much more than a thousand words. Sometimes it holds a clue to treachery.
What They're Saying…
"Nice combination of action, romance and Navajo lore." – Kirkus Reviews
"A choice and thoughtful read . . ." – Midwest Book Review
"Readers will compare Harrison to Tony Hillerman. . .a smooth read with plenty of action . . ." – Gumshoe Review
"Engaging. . . a deep look at Navajo customs and recent history." – The Mystery Gazette
"A suspenseful story. . . will keep you enthralled to the very end. . ." – Fresh Fiction